Have your knees been giving you grief lately? If you've got severe arthritis pain or injury in your knees that just won't quit, it may be time to consider knee replacement surgery. Knee replacement, also known as knee arthroplasty, could be the solution to finally eliminating that chronic knee pain once and for all.
The procedure involves removing parts of your damaged knee joint and knee cap and replacing them with artificial components made of metal and plastics. While the thought of knee surgery can be scary, the results of knee replacement have been life-changing for many.
If you've tried all other options and are still struggling to do basic activities without pain or limitation, knee replacement may allow you to get back to the active lifestyle you once enjoyed. While the cost of surgery and recovery process are certainly factors to consider, your mobility and quality of life are so important.
Table of Contents
Knee Replacement Surgery Cost Indore Overview
If knee pain from arthritis is making it difficult to do the things you love, knee replacement surgery could be an option to consider. In Indore, the average cost of a total knee replacement is between Rs. 3 to 5 lakhs. The exact price depends on several factors, including:
The Hospital and Facilities Used.
The Specific Type of Implant Used.
The Experience and Reputation of Your Orthopaedic Surgeon.
Additional Procedures Like Knee Resurfacing or Partial Knee Replacement.
Total Knee Replacement Cost at Large Hospitals
| | |
| --- | --- |
| Starting Cost | ₹150000 |
| Average Price | ₹175000 |
| Maximum Charge | ₹200000 |
Total Knee Replacement Cost at Small Hospitals
| | |
| --- | --- |
| Starting Cost | ₹90000 |
| Average Price | ₹105000 |
| Maximum Charge | ₹120000 |
While knee replacement is a major procedure, the benefits to your mobility, independence, and quality of life can be life-changing. Don't let the cost deter you from exploring this option with an Orthopaedic Specialist in Indore. Dr. Virendra Chandore Orthopedic Doctor in Indore make knee replacement affordable.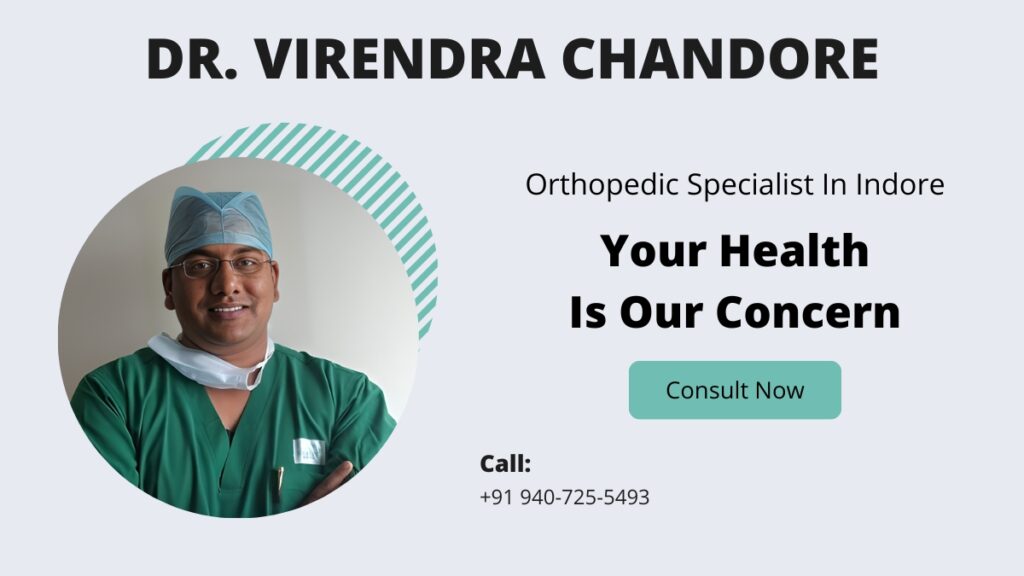 Why Does Knee Replacement Surgery Cost in Indore Vary?
The cost of knee replacement surgery can vary depending on several factors.
Experience and Expertise
Hospital and Facilities
Components Used
Additional Procedures
Insurance Coverage
Follow-up Care
In summary, the specific experience of your surgeon, hospital and components selected, the complexity of your surgery, insurance coverage, and follow-up care all play a role in the Knee Replacement Surgery Cost Indore. The good news is knee replacement can be very cost-effective, given the life-changing benefits of reduced pain and restored mobility.
Best Knee Replacement Surgeon in Indore
When it comes to finding the Best Knee Replacement Surgeon in Indore, Dr Virendra Chandore stands out as a shining beacon of excellence and expertise. With a career dedicated to restoring mobility and enhancing the quality of life for countless patients, Dr. Chandore has earned a well-deserved reputation as a Top Orthopaedic Surgeon in Indore.
Dr. Virendra Chandore brings a wealth of knowledge and experience to the field of knee replacement surgery. He has undergone extensive training and has honed his skills over the years. If you or a loved one are facing knee-related issues, put your trust in the capable hands of Dr. Chandore.
Make the right choice for your knee health—choose Dr. Virendra Chandore as your partner on the journey to recovery. Book your consultation today and take the first step toward a pain-free, active life.
Conclusion
So there you have it, everything you need to know about knee replacement surgery in Indore. While the procedure and recovery can seem daunting, the potential benefits of vastly improved mobility and quality of life are well worth it for many patients.
With the right surgeon and facility, knee replacement in Indore can be very affordable and help get you back to living life fully. If chronic knee pain from arthritis or injury is holding you back, don't delay – start exploring Best Knee Replacement Surgeon in Indore today. You'll be back on your feet in no time and wondering why you didn't do it sooner!